Learn Scilab today directly from the Openeering Scilab Professional experts!
Joining the Scilab Black Belt course you will: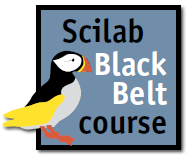 Learn how to carry out a variety of applied mathematics and engineering tasks using Scilab
Study at any time, at your own pace
Ask the experts through a dedicated forum
Save money and time
Get ready for the Certified Scilab Professional exam
Join the Scilab Black Belt course now!
We carefully designed the course material to cover the full spectrum of the Scilab features and, at the same time, we kept the course compact and enriched it with meaningful examples.
Included in the Scilab Black Belt course:
3 months access to video lectures, examples and exercises
3 months technical online support by the Openeering staff
A wealth of downloadable .pdf material, files and coding examples
Your course diploma!
The Scilab Black Belt course is composed of a total of 20 lectures, subdivided into 8 learning units. Each lecture includes a video lecture, examples (with source code) and exercises. An additional unit presents a suggested project covering the full programme.
The course is designed to teach Scilab in depth, with the aim to provide a systematic approach to the Scilab framework and features: as such, it is designed not only for the Scilab newcomer but also to benefit the current Scilab user.
Subscribing to the course you will get in direct contact with the trainers through the learning forum available for each course unit.