Certify your Scilab knowledge today!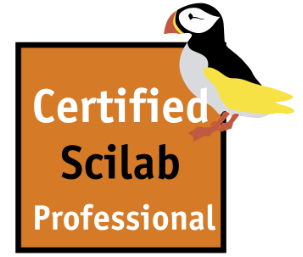 Become a Certified Scilab Professional (CSP), the renowned Openeering Scilab knowledge and working experience certification! Scilab is the Open Source alternative to MATLAB®, and is gaining market share by the day across all industry sectors due to its quality, ease of use and zero cost. Certifying your Scilab knowledge today will get you more productive at work and more competitive in the job market.
The CSP – Certified Scilab Professional is an independent certification issued by Openeering - Scilab Professional Partner - to individuals who demonstrate to possess the knowledge and working experience needed to effectively use Scilab to solve common applied mathematics and engineering tasks.
How to get your Certified Scilab Professional diploma:
Clear the CSP - Certified Scilab Professional online exam
Clear the online interview
Get your CSP - Certified Scilab Professional diploma!
The candidate's knowledge is verified through the Openeering CSP - Certified Scilab Professional online examination. The examination is comprised by multiple answers questions randomly selected among a vast questions database. Questions are aimed at testing the candidate knowledge of the Scilab environment in depth. The Openeering Scilab Black Belt online course is highly recommended as a prerequisite to the CSP online exam.
Following the online test, the candidate's experience is verified though an online interview with the Openeering experts: during the interview the candidate is encouraged to discuss at least one real world project developed using Scilab.
To receive more information about the Certified Scilab Professional program please contact us.
MATLAB® is a registered trademark of The MathWorks, Inc..