Learn Scilab today joining our effective online training courses!
Visit our Scilab Black Belt course page: joining the Scilab Black Belt online course you will immediately start learning how to carry out a variety of common applied mathematics and engineering tasks.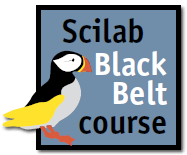 We carefully designed the course material to cover the full spectrum of the Scilab features and, at the same time, we kept the course compact and enriched it with meaningful examples.
Our online Scilab Black Belt course will let you:
Study at any time, at your own pace
Ask the experts through a dedicated forum
Save money and time
Get ready for the Certified Scilab Professional exam
Classroom courses and custom training classes
In order to promote the use of Scilab within the industrial community, Openeering offers a series of scheduled Scilab training courses. Scheduled courses are proposed at both introductory and advanced levels.
We offer on-site training, fully customizing topics, examples and hands-on sessions according to your level and specific needs.
Visit the Scilab training page for details about Openeering classroom Scilab courses.